The impact of the massive global disruption from the COVID-19 pandemic during 2020 has been felt in virtually every organizsation, workplace, and household around the world. With or without an effective vaccine, the pandemic's far reaching impacts will be felt globally for some time to come. 
Global risks in 2020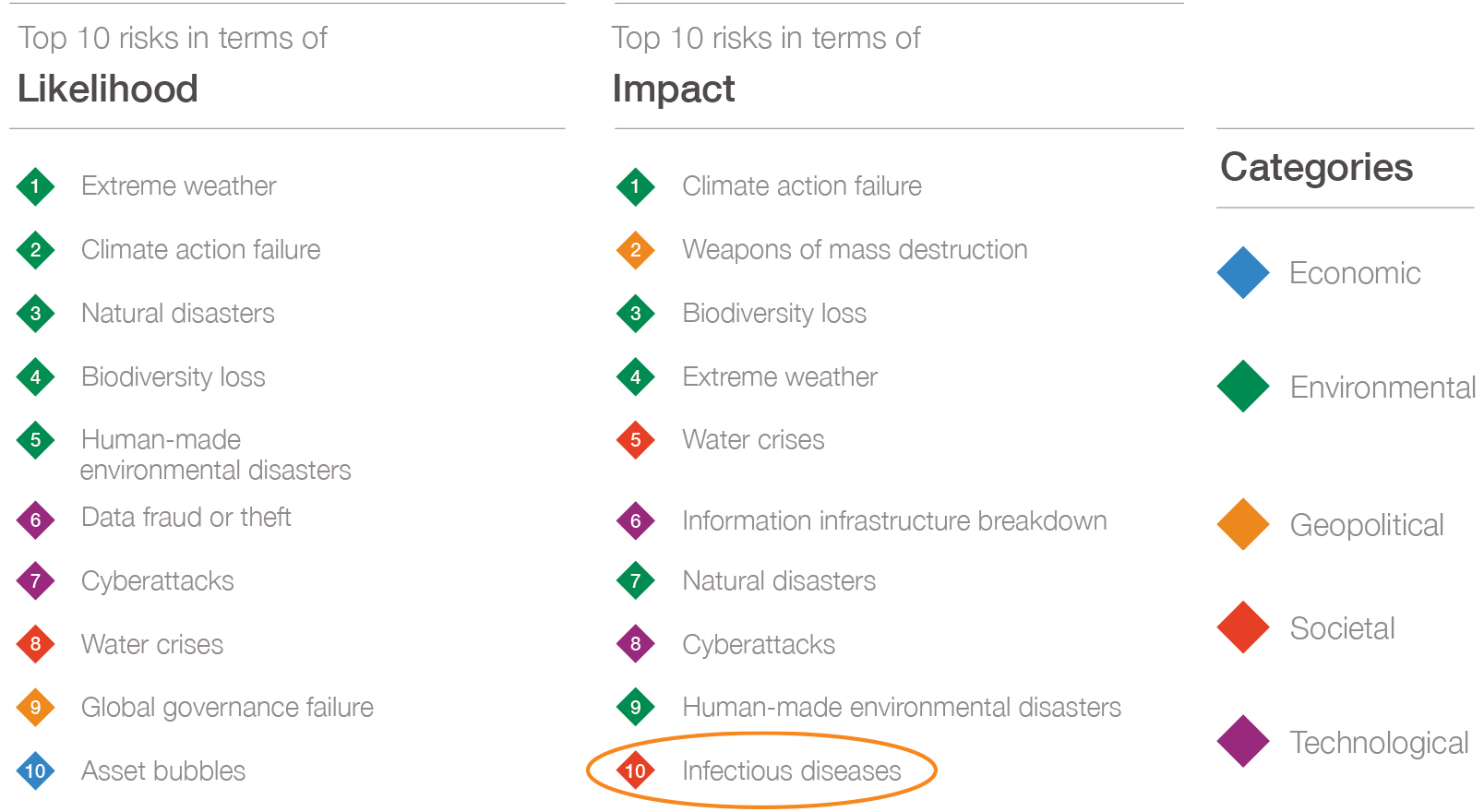 WEF – Global Risks Report 2020 
 
The World Economic Forum (WEF) released its Global Risks Report 2020 on January 2020. Infectious diseases only just made it to the Top 10 Global Risks list for impact, but not likelihood. This is understandable given that it was based on surveys of the WEF's multi-stakeholder communities conducted from September to October 2019.  
The societal and economic consequences of the COVID-19 pandemic have been rapid and immense. 
Governments and organisations are still working on the immediate and difficult balancing act of stabilising and reinvigorating businesses and economies while protecting and supporting people. 
What is evident from the WEF's Global Risks Report 2020, is that although the pandemic has moved front and centre of the global risk agenda, the other Top 10 global risks are still there. They haven't reduced in either likelihood or consequence. Some, like cyber attacks appear to have further escalated during this period. 
The global impact of COVID-19
A May 2020 report by the WEF based on the analysis of evidence and trends, together with the perceptions of 350 of the world's top risk professionals, mapped out the top 10 most likely global impacts from the pandemic.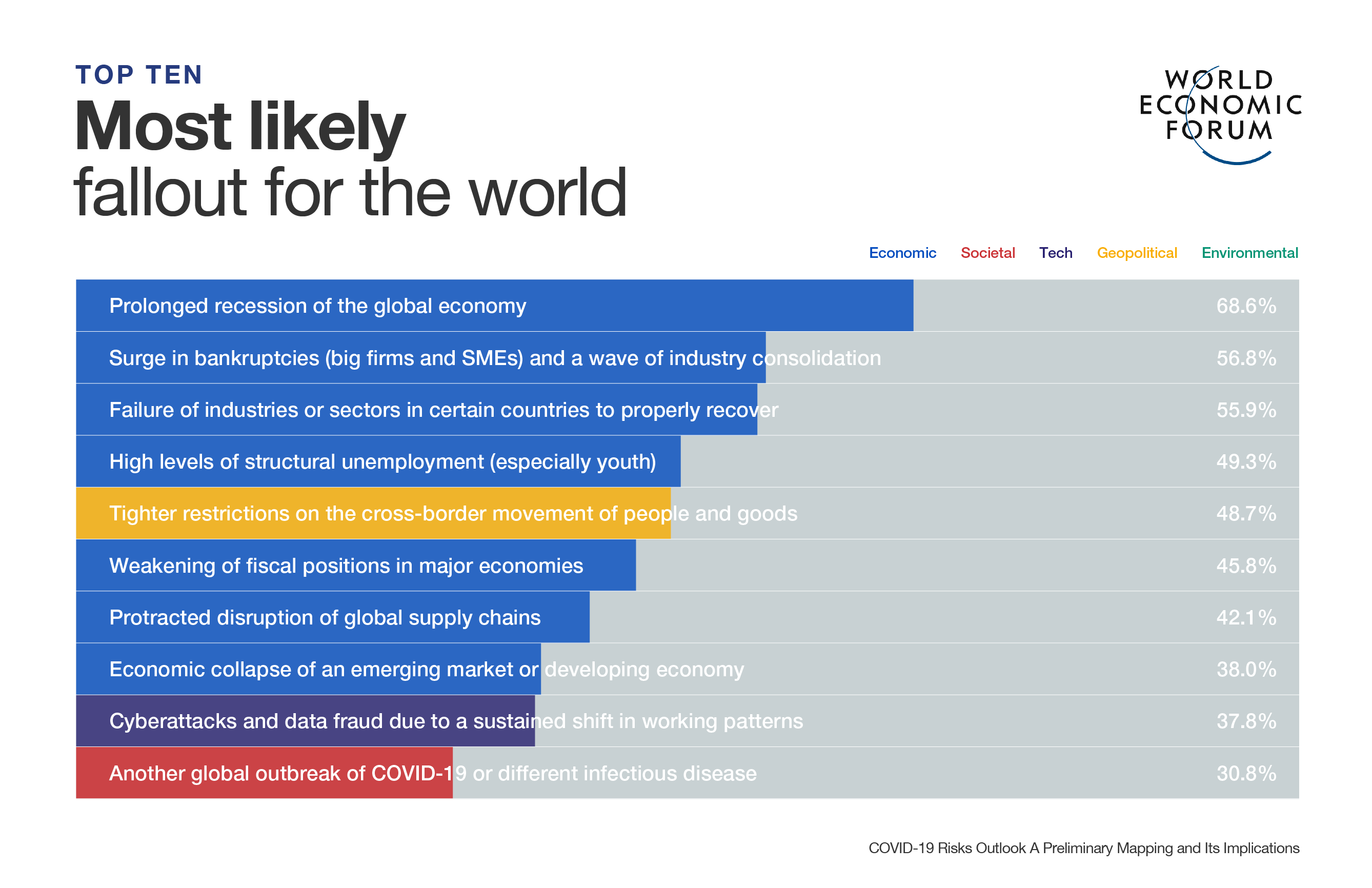 WEF – Global Risks Report 2020 
Predictably, economic risks were identified as the most challenging fallout from the pandemic. The World Bank has recently forecast a 5.2% contraction in global GDP in 2020.  A prolonged global recession tops the list of the major risks arising from the pandemic. An increase in indebtedness will push some companies into bankruptcy and there will be failure of some industries or sectors to fully recover, which in turn will trigger consolidation within industries. We are already seeing high levels of unemployment across many sectors of the economy, which will affect consumer confidence and the speed of economic recovery. 
As well, restrictions on cross-border movement of people and goods and on-going disruption to global supply chains will further weaken the economic recovery. 
The other risk concerns in the Top 10 are the escalation of cyber attacks and data fraud associated with changes in working patterns and the threat of another significant resurgence of COVID-19 or other infectious diseases. 
Global to local – Managing the major risks in your organisation
In combination, the pre-COVID-19 pandemic risks and those that have emerged during the pandemic have impacted every sector of global economies. 
The following analysis identifies the local organisational impact of these major global risks and how to apply the learnings to-date.   
The local impact of COVID-19
Before the COVID-19 outbreak, pandemics were not a standout risk consideration in many corporate risk registers. They were often cited as one of several causes (also including natural disasters, terrorist attacks etc.) listed under a risk such as "Major disruption to operations (or services)". Though the collective consequence would usually be rated major or catastrophic, the likelihood would often be rated unlikely or rare. Depending on the type of business and respective risk impact matrix, this could drop it from an extreme impact (with a possible likelihood rating) to a high or even medium impact. 
What also appeared to be under estimated by many organisations was the scale and duration of the disruption to operations and services caused by the pandemic. This was reflected in many business continuity plans, with a focus on core business functions relying on conventional controls.   
Recent consultation with senior risk managers and CEOs by the global research and advisory company Gartner, identified a number of new, pandemic related risk concerns across industry sectors, in particular: 
Facility closures due to positive COVID-19 cases 
Staff shortages due to cases of COVID-19 
Employee mental health and well-being 
Regulations limiting or suspending industry-specific business operations 
Supply chain disruption as a result of force majeure clauses  
As a result, these risk factors were not part of pre-pandemic risk identification and assessments. As well, the scale and prolonged nature of business disruption or in some cases complete shutdown, together with facility closures may have seen business continuity plans fall short. 
The pandemic has also amplified some existing enterprise risks and/or accelerated their onset.  
The Gartner research consolidates these COVID-19 related risk factors into 5 key, interrelated areas: 
Employee health and safety. In addition to protecting employees from COVID-19 infection, engagement and mental well-being are higher in urgency. 
Business continuity and productivity. COVID-19 has magnified risks in workforce availability, absenteeism and a lack of key vendor-provided services, which can threaten business continuity plans.
Financial. Fluctuations in customer demand, third-party risks, and a global economic downturn pose significant financial risks to organisations across industries.
Information security. Transitions to long-term remote work can increase risks of privacy and data breaches, phishing scams, and inability for infrastructure to support extensive use of remote VPN connections.
Regulatory compliance. New or altered government regulations, public health policies and compliance requirements can affect all aspects of business operations.  
Organisational resilience and sustainability requires that each of these areas are prioritised and appropriately resourced, not only operationally from a risk management and compliance perspective, but also strategically from a Board and Executive perspective. Identifying, tracking and reporting on key metrics associated with these areas can play an important role in supporting well informed and timely decision making. 
If it hasn't been done already, now is also the time to update risk and compliance registers and respective risk assessments with the new COVID-19 driven risk factors and review and update business continuity plans on the basis of the experience with major business disruption. 
The local impact of climate change
Of the pre-pandemic global risks identified by the WEF in the Global Risks Report 2020, those related to climate change have the ability to continue to significantly impact organisations at the local level.   
It is worth remembering that in September 2019, rallies timed to coincide with the United Nations Climate Summit in New York saw an estimated six million people in more than 180 countries take to the streets demanding more action by governments and industries to cut greenhouse emissions. 
Individual companies have also been held increasingly accountable by customers, investors, competitors and regulators for their impact on the environment and contribution to climate change. 
In the wake of COVID-19, regulators and central banks will be keen to avoid further significant financial stress on businesses in the transition to a low carbon economy, but while this may slow the process, it will continue. A slowing of this transition may of course increase the existential risk of climate change. 
With pandemic driven changes to working practices, attitudes to travelling, commuting and consumption, there may also be opportunities for some businesses to capitalise on a lower carbon recovery. 
Organizations will also have to contend with a continuation of extreme weather events, which have the potential to further impact supply chains, infrastructure and affect consumer demand. 
As with organisational planning and preparation for future pandemics, scenario and vulnerability assessments can be run to better prepare for climate change risks. 
Applying the learnings
We are in a global healthcare crisis that is also a global economic crisis with a backdrop of a climate change crisis.   
The learnings to-date from the COVID-19 pandemic in terms of dealing with a large-scale crises and its consequent disruption, whether it be through failure of global supply chains or infrastructure, or failure of processes, systems and plans within the organisation, has a cross-over application to the significant risks brought about by global climate change. 
The fallout from the COVID-19 pandemic is still unfolding. As indeed is the impact of climate change. Although there are a number of commentators talking about the 'new normal' or the 'next normal', seemingly with some clarity, I think that has yet to be determined. 
In the meantime, the learnings to-date can be incorporated in planning and aligning resources for a better prepared, more resilient and sustainable organisation, that is also better positioned to capitalise on emerging opportunities. That is essentially, good risk management. 
Redefine the way your organisation pursues opportunity and manages risk. Get started today with a flexible, easy to use integrated risk management solution in less than 4 weeks. Request a demo.