Cyber & IT Risk Management
Do you have visibility of your Cyber risk at the right levels? Is your IT risk integrated with your existing enterprise risk framework? Camms.Risk ensures that cyber risk is given the visibility for all levels of an organisation.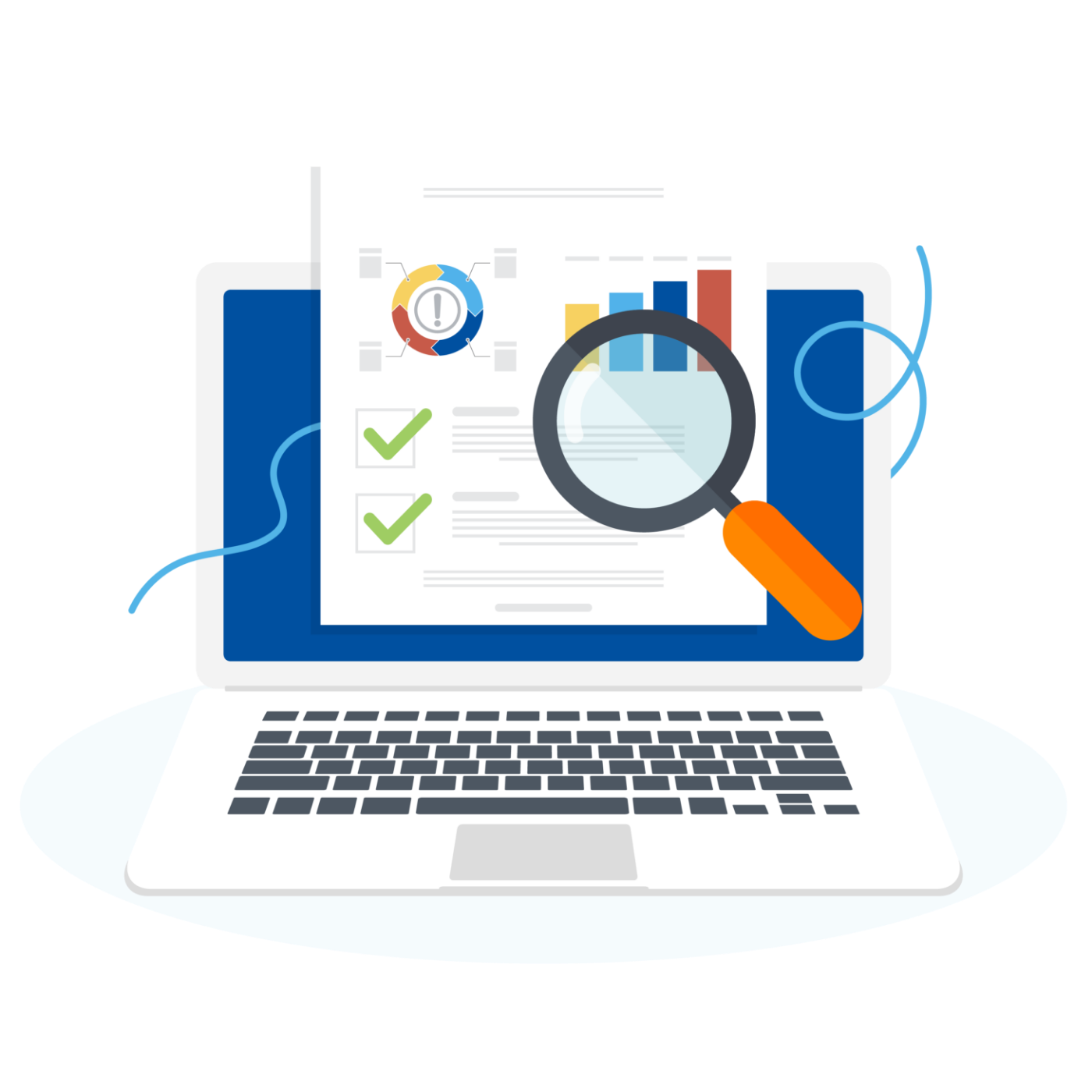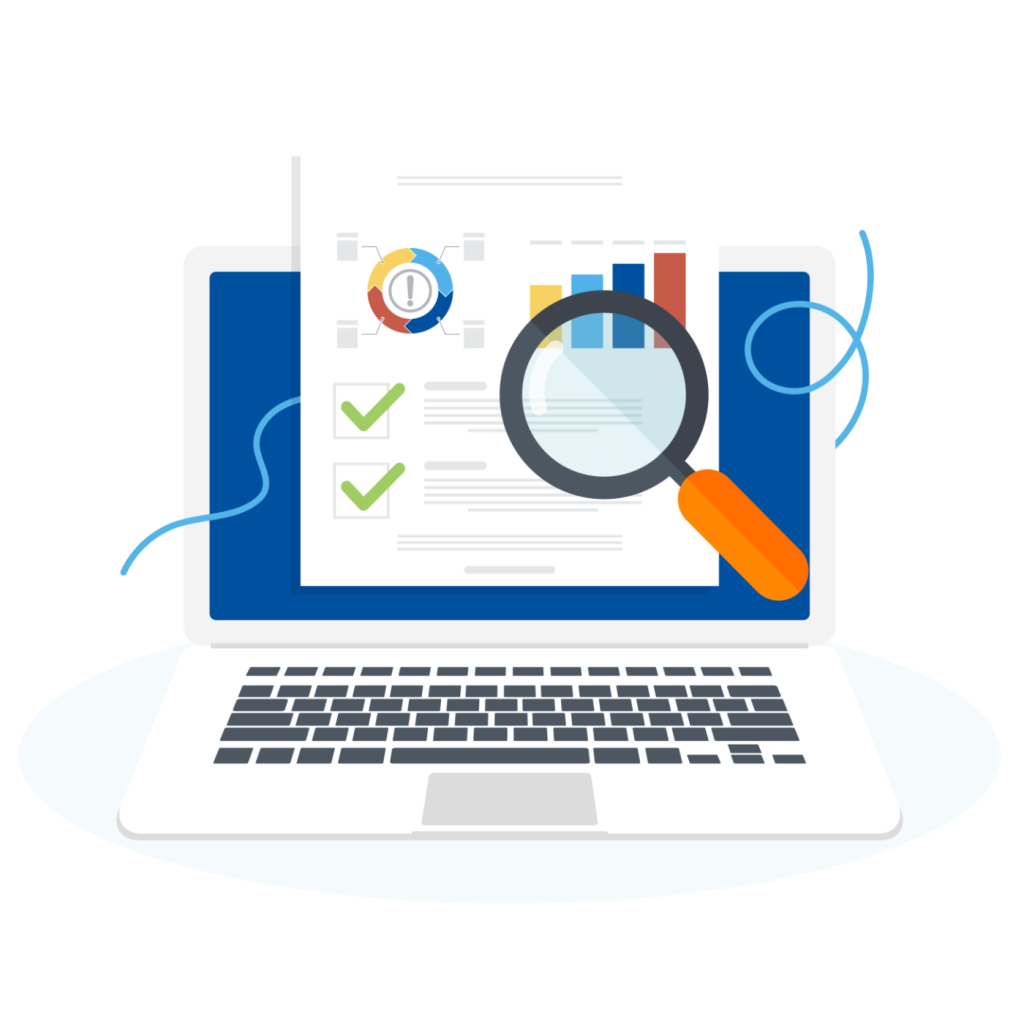 Manage complex structures of compliance requirements for standards such as ISO 27001, NIST, HIPAA, PCI DSS, SOC 2 and GDPR
Identify and monitor IT risks, mitigating actions and controls
Manage cybersecurity incidents from the initial incident, through to detail investigation and closure
Camms.Risk Cyber Risk Management
Even before the global pandemic, cyber risk management objectives were rising on the Boardroom priority list. An incident brings enormous regulatory fines that can drastically impact an organisation's bottom line. Even if the business has deep enough pockets to sustain the financial impact, an incident also has the potential to cause irreversible damage to an organisation's reputation and customer trust. Consequently, there is increased pressure on governance, risk and compliance professionals to demonstrate to executive teams why they must step-up and get a better handle on cybersecurity to remain competitive.
To do this well you will need a cloud-based integrated platform you can trust, in order to deliver the visibility needed to determine a robust risk posture for effective cyber risk management.
Cyber & IT Risk Management Solutions
Compliance management
APIs
Risk treatment & control management
Analytics & reporting
Stakeholder dashboarding
Incident management
Audit management
Regulatory change management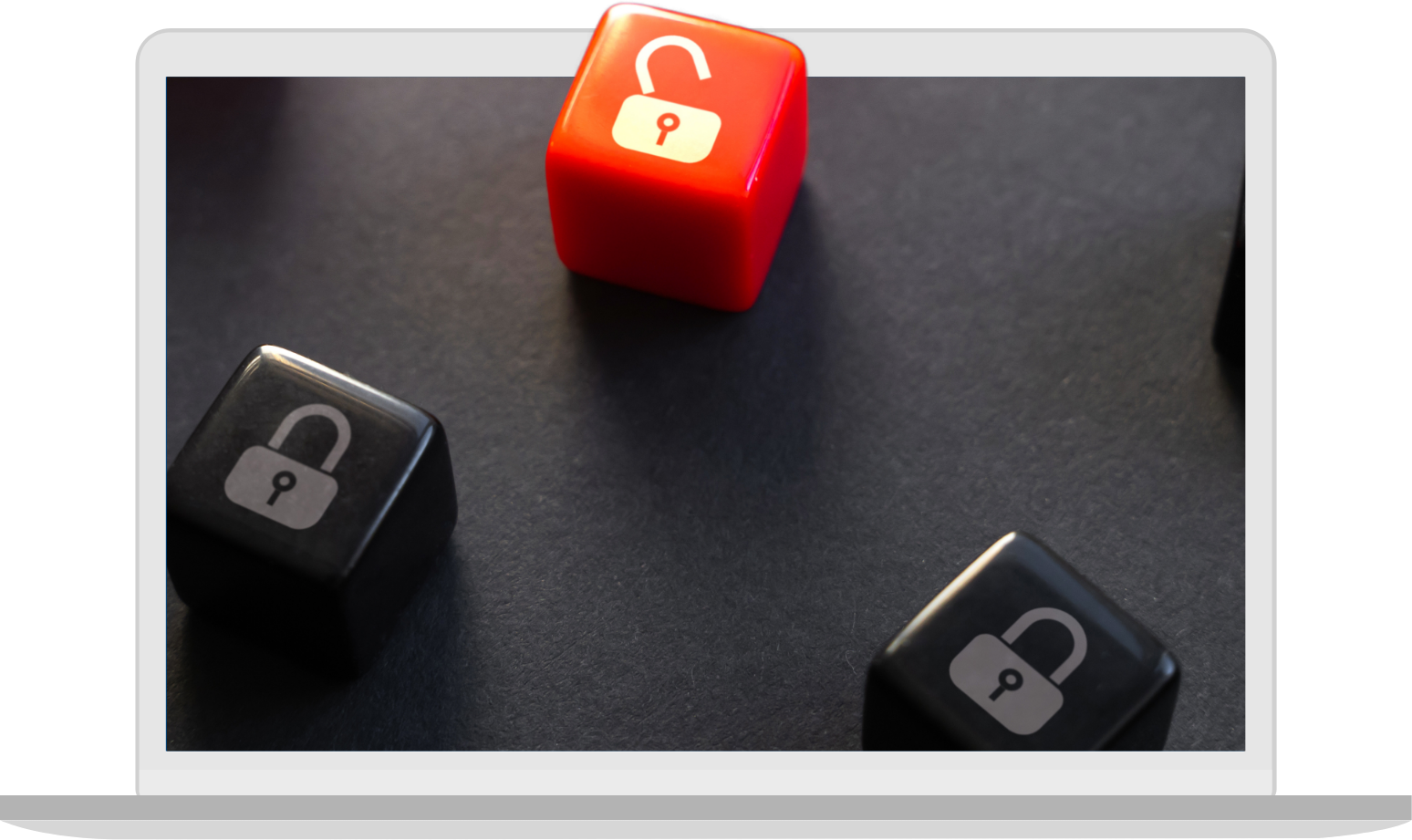 How can organisations mitigate cyber risks and keep executives informed?
Watch our short overview video to find out how Camms offers a fully integrated solution to support organisations with their IT and cyber risk management.
Cyber & IT Risk management capabilities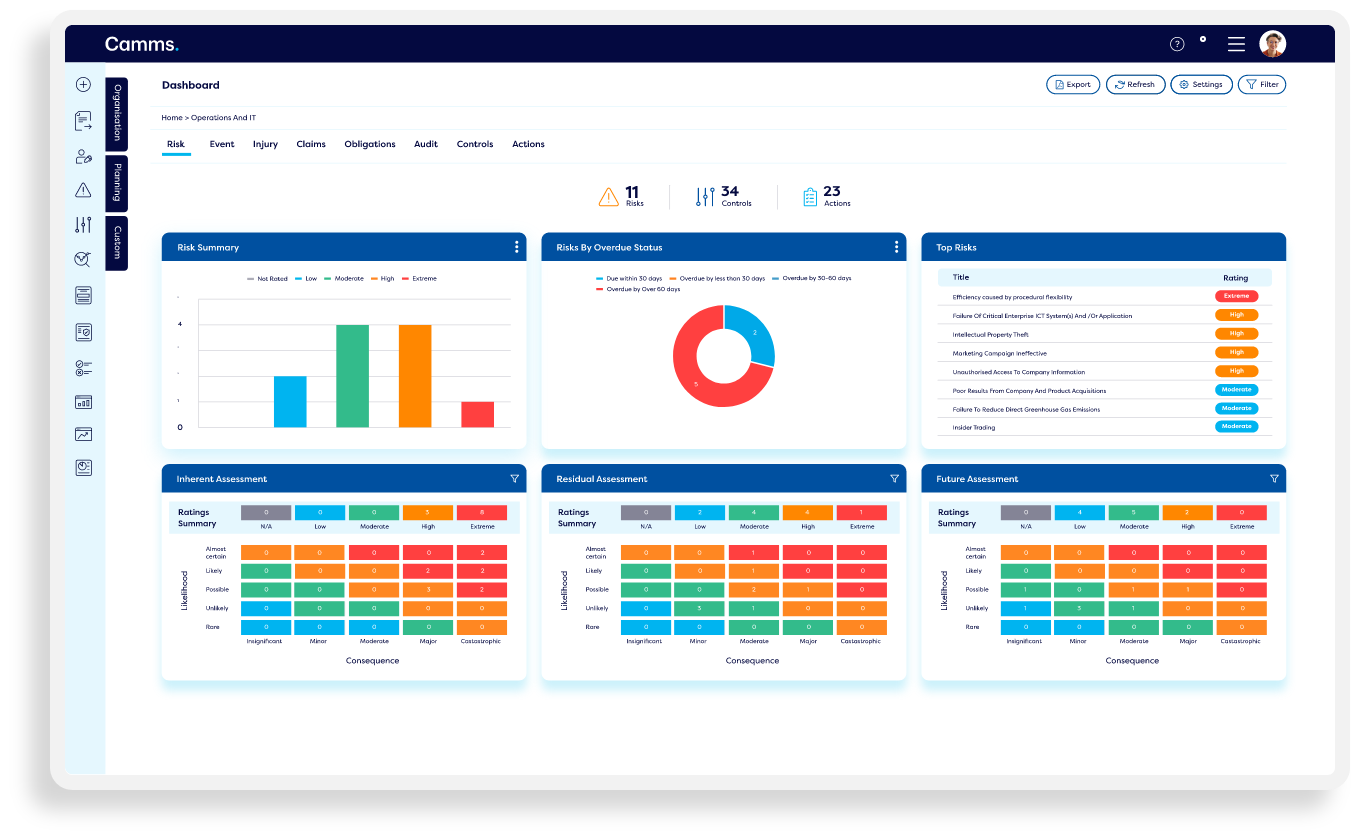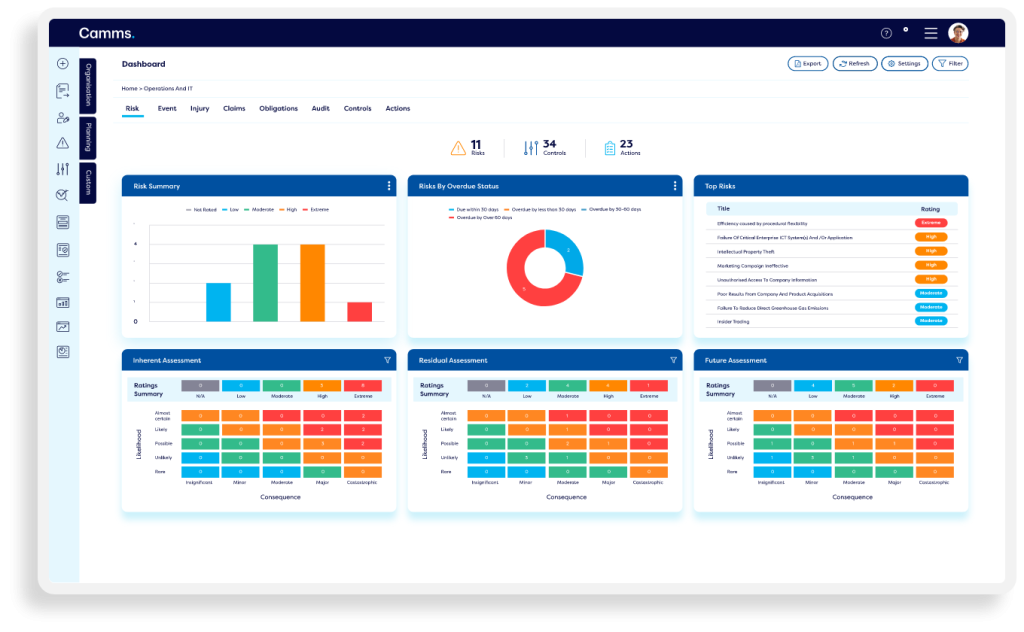 Manage cyber risk in a systemised transparent way
Enables identification of varying types of cyber risks (segregated into configurable registers), risk and control assessment and remediation. Risks can be linked through to causal factors that building a library within the tool, creating the ability to create bow-tie analysis of an organisation's cyber risks. Each risk can have established controls which integrate with external tools to report on the effectiveness. Risk treatments can be created and tracked against each risk, with completed treatments able to be converted to controls for ongoing monitoring. This compliments the initial and residual risk assessments that can be done with the system, with an optional forecast/target risks assessment as well.
Real-time visibility of risks and controls
Use of dashboards and reports to ensure that cyber risks are visible at all levels of your business. Executives, boards and business unit leaders to understand the complex world of cyber risk through clean and easy to understand interactive heat maps and dashboards, whilst enabling GRC professionals to layout their organisation's risks in easy to use and track risk registers.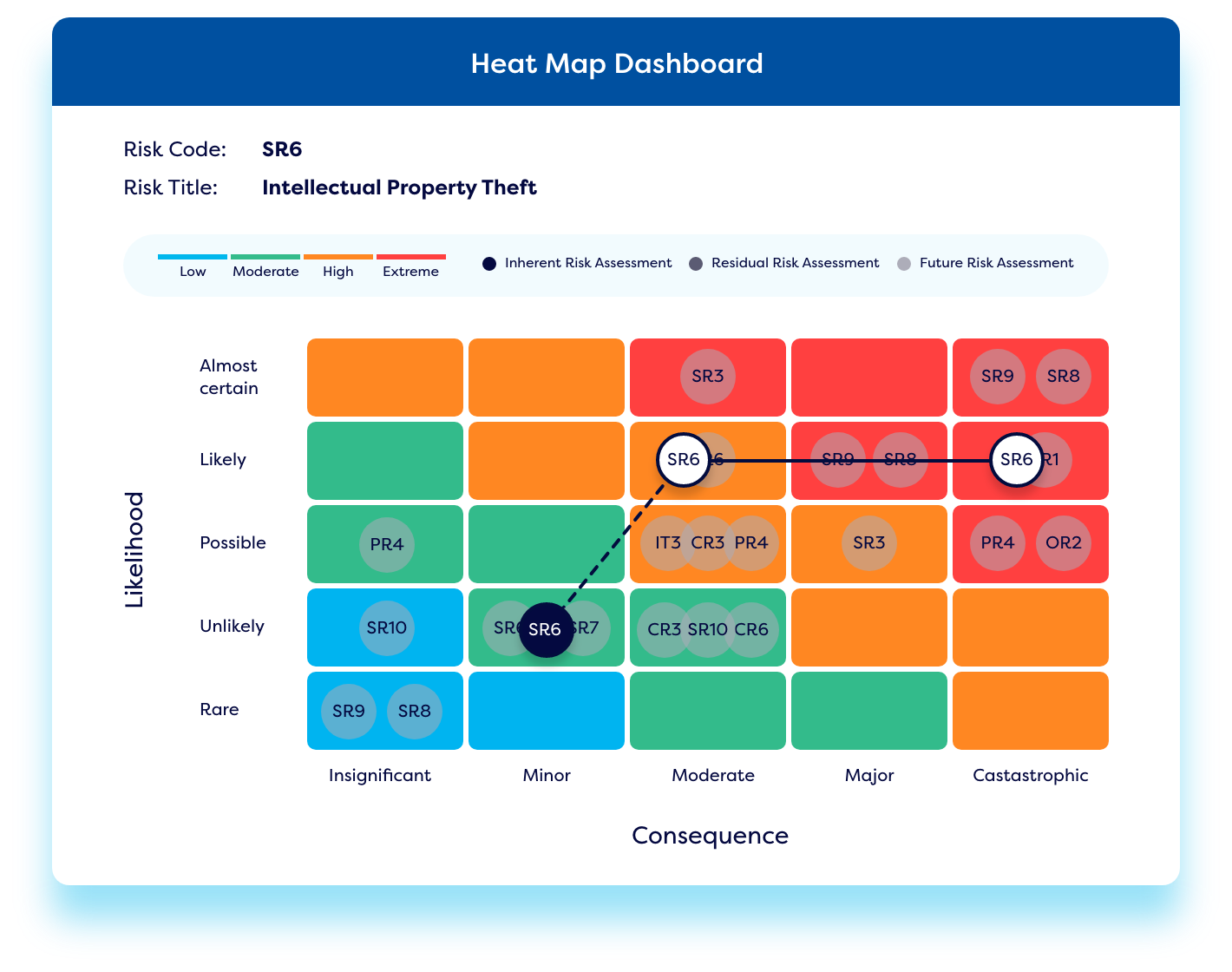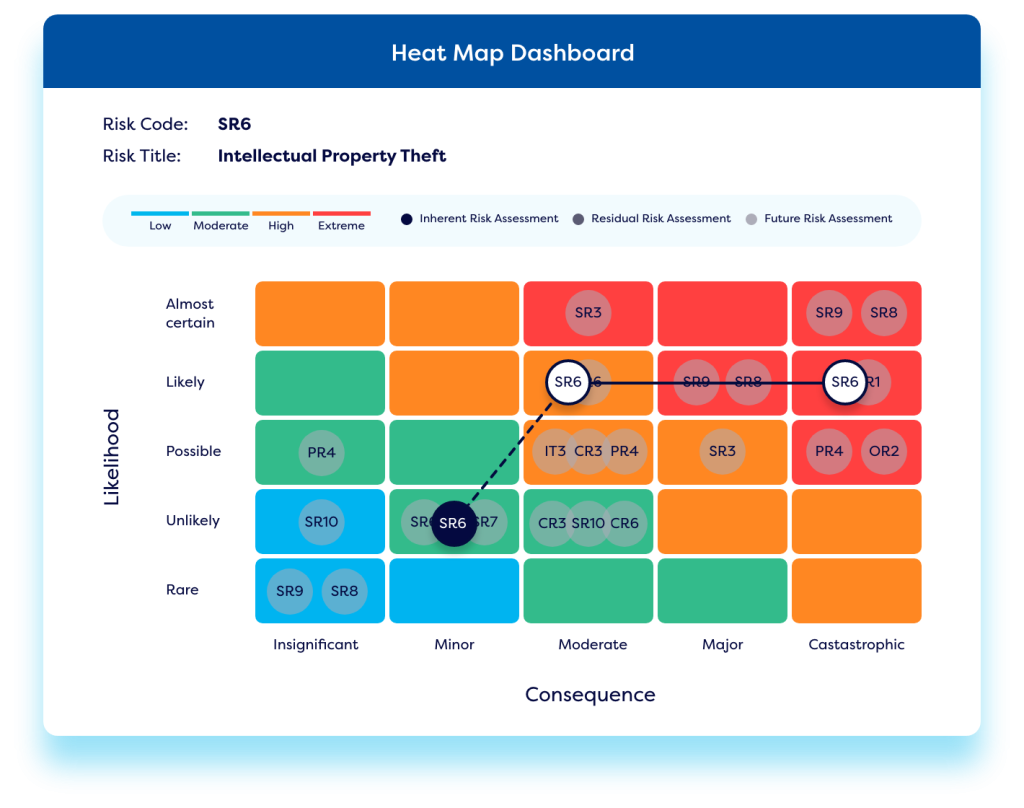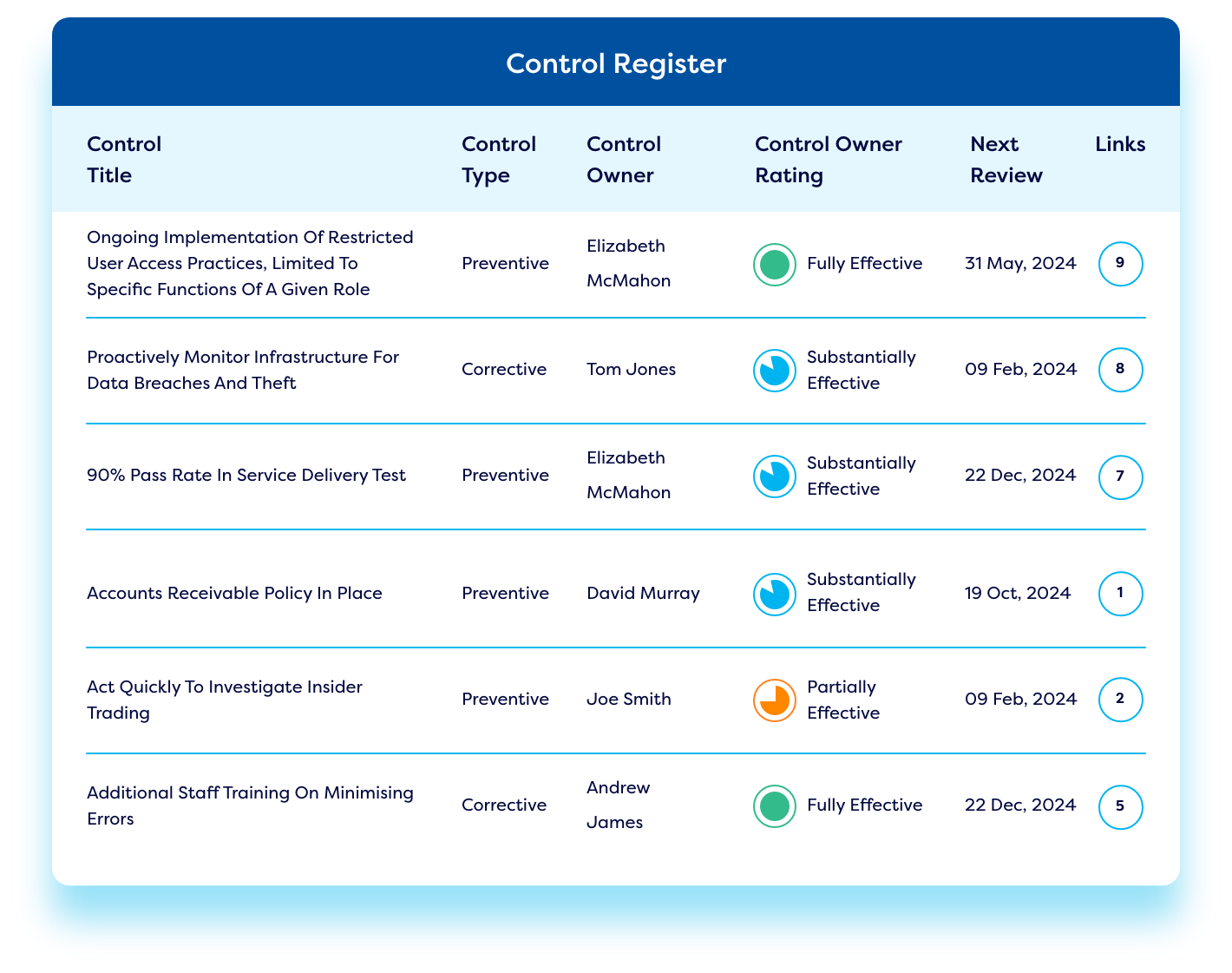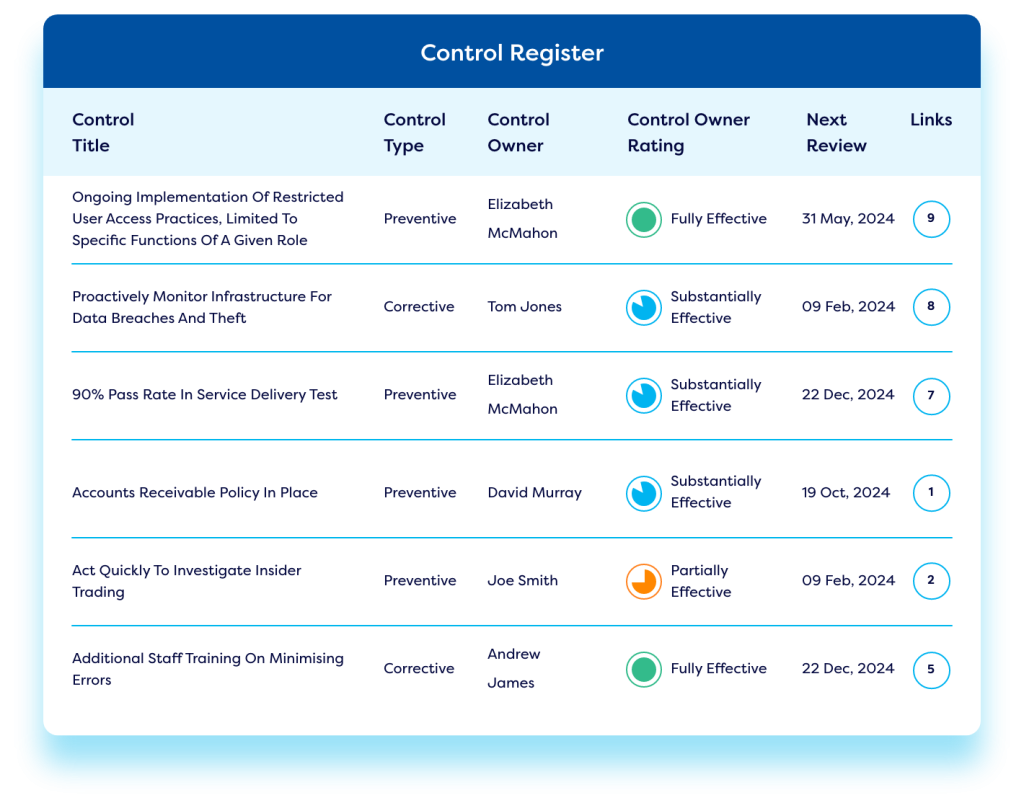 Manage controls inline with key information security frameworks, including ISO 27001 and NIST 800
Camms.Risk allows organisations to manage complex structures of compliance requirements, policies and authority documents, with out-of-the-box configurations available for key legislation, frameworks and standards such as ISO27001 and EU GDPR. Compliance obligations (and sub-obligations) can be mapped to relevant policies and controls for traceability. Integrations with regulatory compliance and change management using Camms APIs, including LexisNexis provide crucial capabilities to received automated compliance obligation updates and flag potential non-compliances.
Cyber incident management
Incidents can be integrated with third-party monitoring and ticketing tools, to automatically create incidents based on events or tickets, and complete the investigation, root cause analysis and remediation action follow up via Camms.Risk. Linking incidents to risks enable analysis of potential controls that are failing, and links to compliance obligations can flag compliance failures and potential exposure.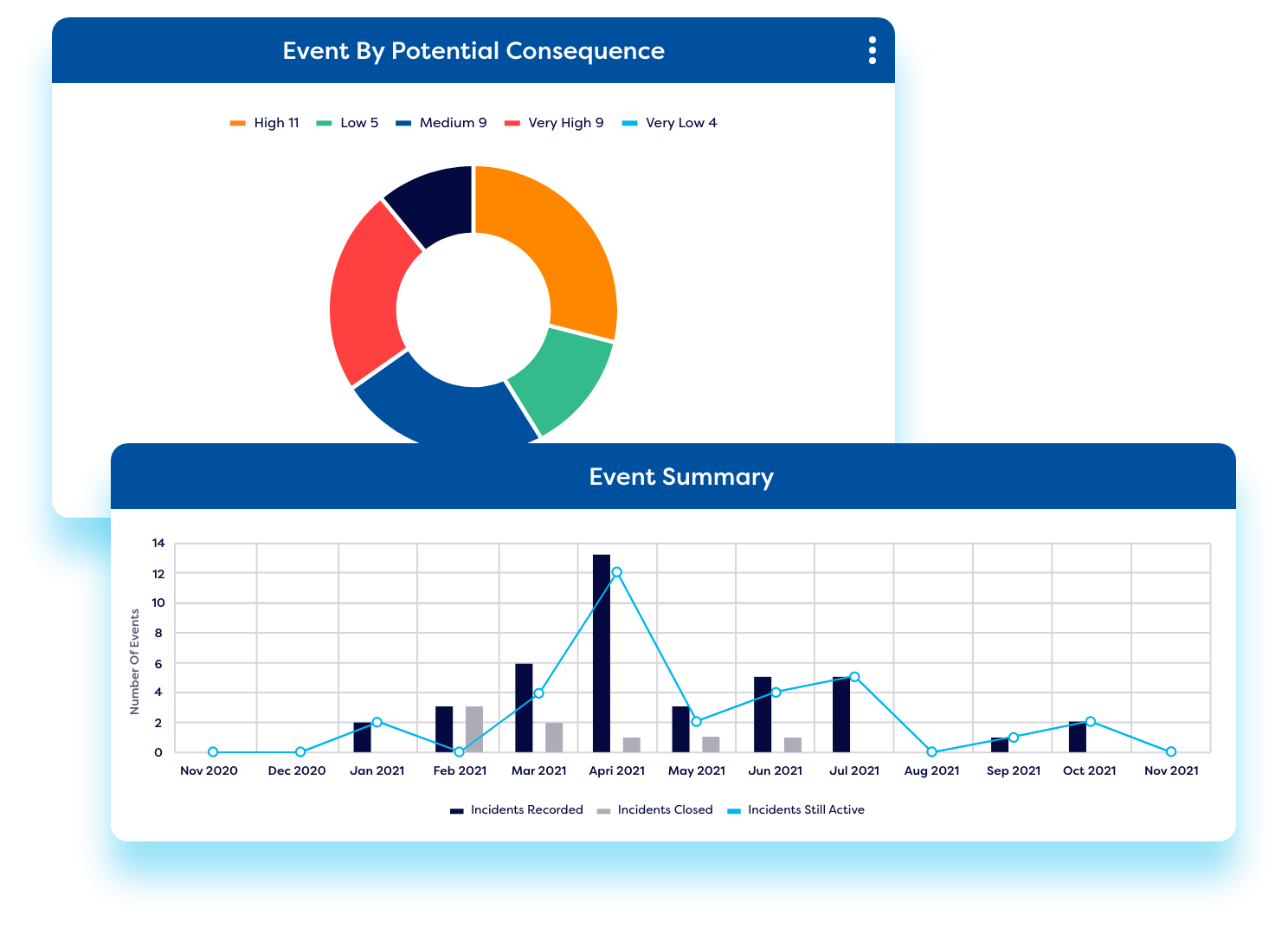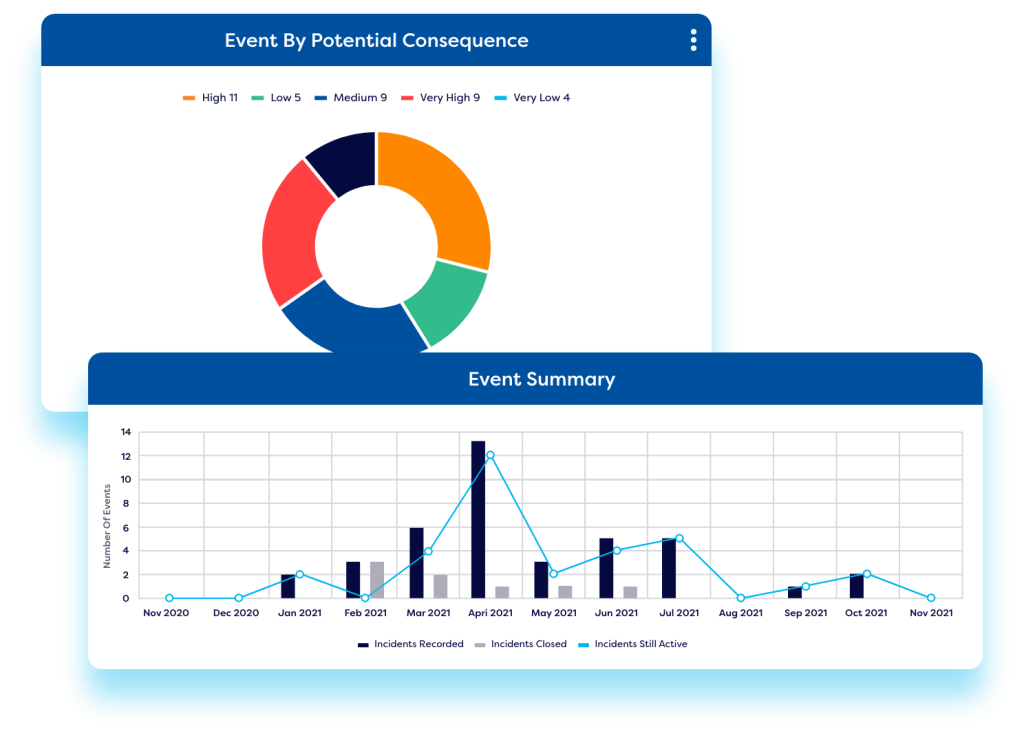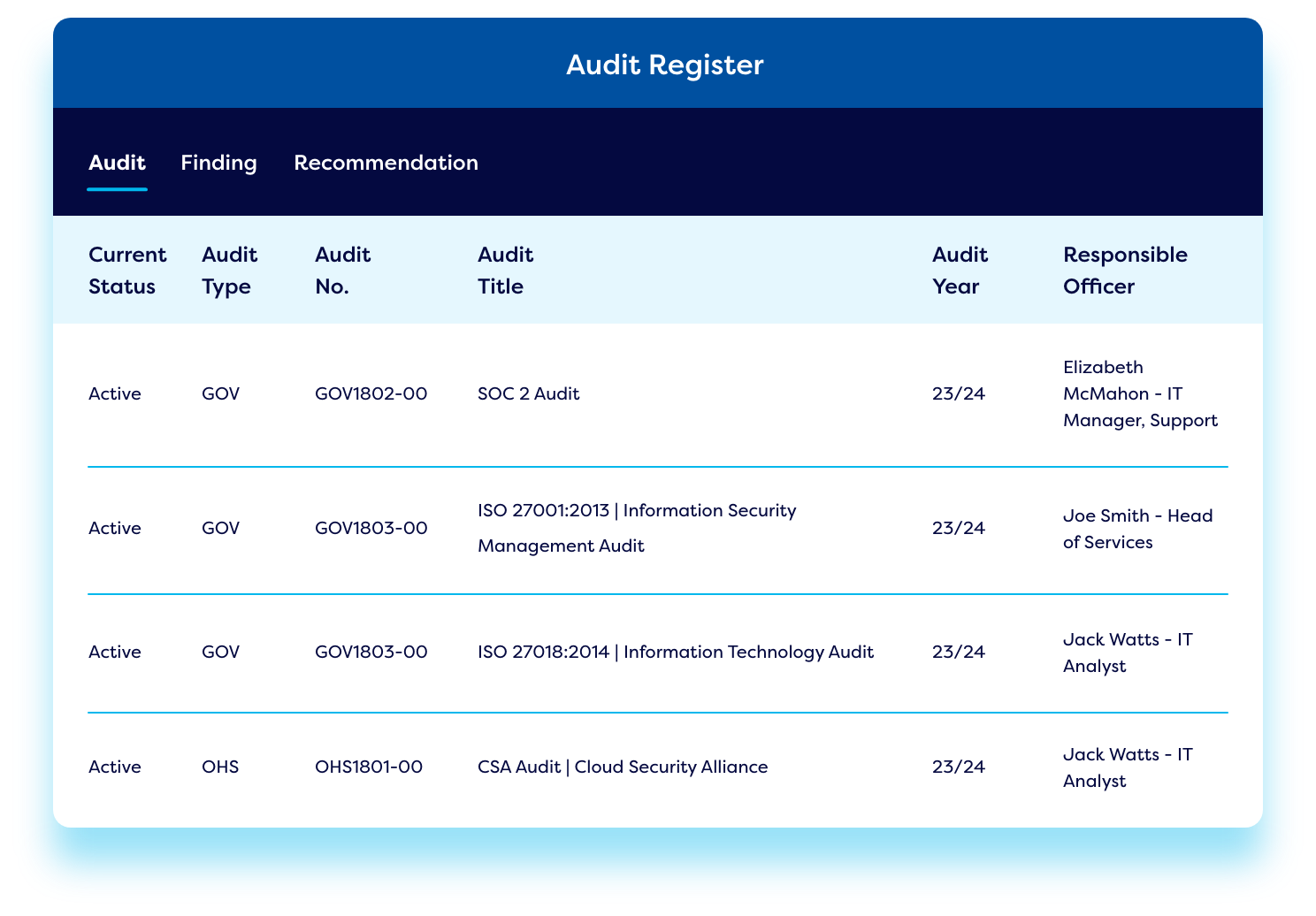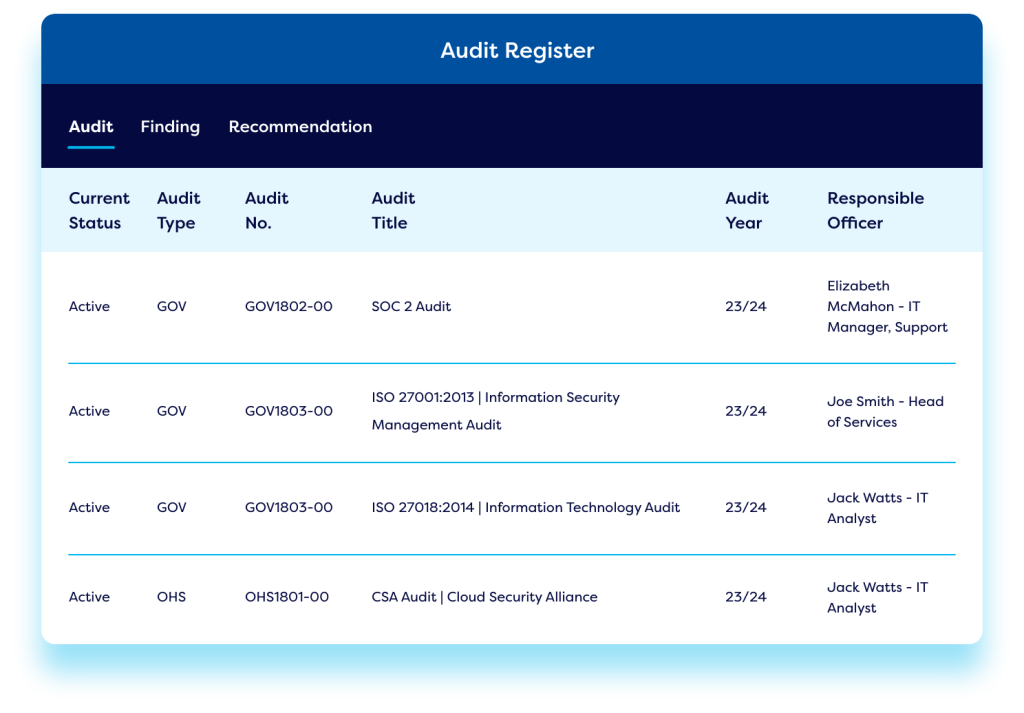 Track recommendations and audit actions resulting from internal or external audits, with the ability to link back to risks and having audit actions linked to risk treatments where relevant. This provides complete end-to-end traceability and enables reporting to key stakeholders.
Your
Cyber & IT

Resources
The latest and hottest pieces of Cyber & IT content to keep you in the loop.
Get started and request a demo
Fill out our simple form to see Camms' business solutions in action.
Fill in your details to request a demo