When you choose to challenge, you choose to create change. How will you challenge today, to change tomorrow?

Year on year, International Women's Day has grown to illustrate the relevance and joy that comes with challenging the status quo, sharing experiences, and taking pivotal steps towards progress together. While this year's International Women's Day is bound to be quite different with the ongoing pandemic crisis, it remains a global day to celebrate the social, economic, cultural and political achievements of women and raise awareness against gender bias.
As we step into a new year and adapt to a new normal, it's heartening to see that some things don't change. March the 8th remains one of the most important days of the year to lobby for accelerated gender parity and women's equality. Now more so than ever before.
At Camms, we don't choose to challenge gender bias just on International Women's Day. As a part of a forward-thinking business community, we believe in continuously discovering, adapting, and refining company good practices to foster a supportive environment for women to grow, not just today, but every day of the year.
In keeping with the spirit of this year's International Women's Day theme; ''Choose to Challenge'', Camms is choosing to shine the spotlight on some of our many clients who have built collaborative and supportive networks with key initiatives around the globe; to help women maximise their talents and ambitions.
Here are some stories we chose to highlight, showcasing some of the remarkable initiatives of our clients and the extraordinary ways they #ChooseToChallenge to #ChangeYourTomorrow.
Independent development and humanitarian organisation, Plan International, actively advances equality for girls in more than 75 countries, with over 26.9 million girls benefitting from their initiatives last year alone.
Having worked with vulnerable women and children for 80 years, Plan International remains committed to making a lasting impact on their lives. By putting gender equality and persistent challenges faced by girls, at the very heart of their organisational purpose, through advocacy, partnerships, digital development, innovation, and gender lens ventures.
Media and popular culture no doubt play a key role in promoting damaging gender norms and happens to be at the very root of the girl child's rights. Which is why, marking this year's International Women's Day, creative agencies partnering with Plan International have answered the call to put an end to negative gender stereotyping in the production of future content.
Supporting vulnerable girls to learn, lead, decide and thrive in their communities are central to their organisational strategy and achieving the ambition of fulfilling 2030 Global Goals. You can discover more about this here.
You can also check out the brave females at the forefront of securing rights and justice for young women and girls here.
A leading social enterprise, the Wise Group works across the UK to raise those who are the most vulnerable in society out of poverty, and help build bridges to opportunities by providing access to mentoring support, advocacy, skills, and employment.
Their work is varied. Yet at the foundation of everything they do is passion and commitment to social justice and a fairer society for all. By partnering with third sector organisations, large business enterprises and local governments, the Wise Group provide specialist support to the people that need their services the most.
One such initiative launched in 2013, is the SHINE Women's Mentoring Service which was created as a part of their wider community justice programme. It offers holistic support to adult women, who are serving custodial sentences of less than four years, in remand or subject to community payback. SHINE helps women to understand and overcome the barriers they face, build their confidence, strengthen their resilience and supports them to successfully integrate themselves back into their communities. In turn, effectively empowering them to play an active role in changing their tomorrow and rebuild their future. You can learn more about the SHINE mentoring Services and how you can support here.
Since 1989, the humanitarian charity Mines Advisory Group (MAG) has been helping over 20 million people in over 70 countries across the world to rebuild their lives and livelihoods; by detecting and destroying landmines, unexploded bombs, and cluster munitions in places once riddled by conflict.
MAG is committed to the participation and empowerment of women in all aspects of their work, transforming a traditionally male-dominated sector.

Today, they work with hundreds of inspiring women in countries around the globe, including Sri Lanka, which some of the largest number of our Camms staff call home.

MAG has been involved in demining in Sri Lanka since 2002 locating and removing landmines and other unexploded bombs. Since the end of the 30 year war in 2009, MAG has played a pivotal role in releasing over 35 million square metres of land and cleared over 42,000 mines and 14,800 other unexploded bombs in the North of Sri Lanka.
Through various community liaison teams MAG ensures its projects include the most vulnerable groups, often recruiting from the local populace.
" We recruit and train men and women from local communities. This gives people affected by landmines the opportunity to clear them, as well as financially support their own families and communities. " – MAG
Here, brave women all share a commitment to ensuring a safer and brighter future for men, women, and children, in post war Sri Lanka.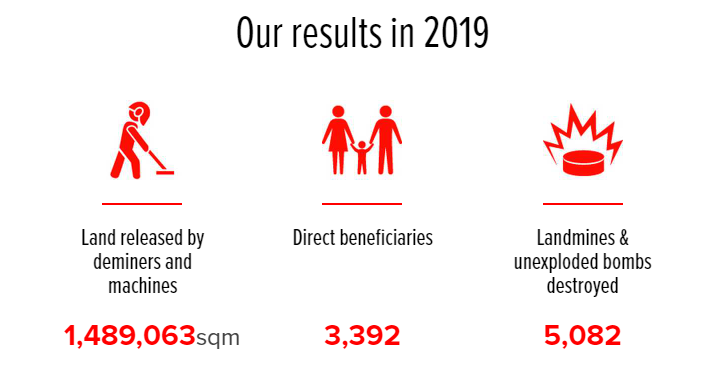 Results of demining in Sri Lanka
Source: Mines Advisory Group
Initiatives like these help MAG empower women like Fatima Wehbe, a single mother to triplets AND twins, who started working with MAG two and a half years ago removing landmines in Lebanon.
" When I found my first mine, I was a little bit scared, but after that I just felt proud. None of us have the full approval of our family doing this work. And none of us would want our children to do this work. " – Fatima Wehbe
Empowering women through training and employment in technical roles is one of MAG'S top priorities and remains an integral part of achieving their goal of making many countries as possible landmine free by 2025. Discover more about their heroic efforts here.
Every day, British human rights organisation Article 19, celebrates both the leadership and contribution of thousands of women around the globe. Who campaign for women's equality and empowerment by endorsing the importance of gender equality as a key component of the right to freedom of expression through their daily work.
Armed with a very specific mandate, Article 19 promotes the defence and the right to free expression and information, and works towards a world, where every person can actively engage in public life, without the fear of discrimination.
Last year alone, saw the watchdog launch support to champion campaigns to tackle gender inequality. Campaigns such as petitioning governments around the world to do more to help women facing domestic violence, including psychological, sexual and physical, which can even lead to death. Find out more about their campaigns here.
International Women's Day certainly sees a number of missions that help forge a gender-equal world that celebrates women's achievements and increases visibility, while calling out inequality. Not only are we honoured to support these incredible organisations by providing business solutions to make a difference in the lives of people around the world, we are extremely proud to promote some of our clients who demonstrate their dedication daily to make the world safer, better, inclusive, and open to future possibilities for women and children around the world.

To learn more about International Women's Day, the inspiring work happening globally, and how you can support women's empowerment efforts, visit the official site here