The pandemic had a profound impact on risk management as teams were put under increased pressure to respond to the pandemic and new regulations were introduced. The pandemic put the spotlight on ERM and senior leaders began to see more value in the risk management function.
The pandemic also exposed many of the glaring inequalities in our systems, society and economy – with women facing unique challenges from the demands of childcare to a complex work life balance.
However, today with an increasing number of women in senior leadership roles, female risk professionals are strengthening the risk profession and bringing diversity, unique skills, and most importantly new perspectives to the risk arena. But were women disproportionately impacted by the global pandemic, or was it the tipping point to bring about change for the better?
Recently I had the opportunity to interview four female leaders in ERM with careers spanning a broad cross-section of industries. They shared their experiences during the pandemic, discussed some of the emerging risks facing their organisations, gave insights on being adaptable in an evolving risk landscape and imparted valuable advice on building a successful career in risk management.
This blog shares some of the highlights uncovered in that engaging panel discussion.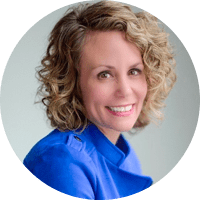 Christy Kaufman, Vice President, Risk Management for Zillow, Adjunct Professor, and Board Director of Risk & Insurance Management Society
Christy touched on some positive effects of the pandemic she remarked While the pandemic has disproportionately impacted women in a negative way, we need to be careful not to generalise or assume that everyone was impacted the same. My personal experience was atypical, I was able to move to a job that would not have been otherwise available to me prior to the pandemic without a relocation.
In terms of Zillow Christy added The pandemic saw a dramatic increase in our business, and we entered what we refer to as the 'great reshuffling' of Zillow. For us, the biggest risk was centred around the question of, how do we execute on this unprecedented spike in demand? From a risk standpoint, it was about how to scale the business quickly and continue to deliver the best possible customer experience with this very surprising level of increase. This a prime example of how an unprecedented risk such as a pandemic can still open up opportunities for some organisations and individuals. Risk management is about planning for the unexpected and looking at what might happen, whether that be good or bad and being prepared.
Christy also shared her thoughts on the role of risk management I see the role of risk management as one that provides the visibility senior leadership and the board needs to ensure that we're focused on the issues of greater impact, directing our resources there and improving them over time. As risk managers, we have to figure out how to add value to this environment. We need to position risk management as an enabling function for innovation and cultivate a mindset of, 'we are going to help you be successful, by providing a lens on what could go wrong, anticipate and be prepared, but certainly not stand in the way of trying new things. This is a great example of how risk management data can be used to enable business to try new things whilst having full visibility of the associated risks. This methodology enables risk teams to support the executive team with strategic decision making and protect the company from risks outside of their defined risk tolerance.
We also asked Christy about how to further a career in risk and tips for self-development she shared As a teacher, a trend I see among my students is a hesitancy to ask for help. Many people assume that people who are further along in their careers are too busy to help. We would love to help because many of us want to give back and derive a lot of satisfaction from doing so. My advice is not to be afraid to say out loud what you need, which is winning half the battle. Personally, networking has served me well, and it's not something I have had to work hard at. What I have had to work at is to use that network to my advantage. It's not just about knowing a lot of people, and having them like you, it's also about saying out loud what you need from them. This is great advice for those starting out in the risk management field or those wanting to further their career in general.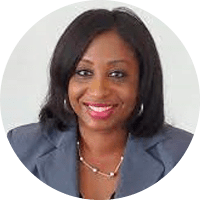 Tamika Puckett, Head of Cyber Risk Management at Zoom Video Communications Inc.
Tamika imparted her thoughts on some of the additional pressures on working women As wives, mothers and caregivers, we tend to put our professional development and success on hold to support everyone around us – I think the pandemic really brought awareness to the business community about these issues' women face.
But similar to Christy the pandemic also brought about positive experiences for her she added My role came about as a result of the pandemic. The use of Zoom grew overnight in March, and from a risk management standpoint, there was a lot happening very fast, and there was a huge focus on the security side of things. We have had to scale and mature our processes to match that growth. Essentially, we are working backwards to meet those objectives, focusing on security and working to tie it into ERM, methodology, and programmes. Zoom is a prime example of a business that had to adapt fast during the pandemic due to unexpected demand and they have had to increase their risk management programme to protect their business, cybersecurity is especially important for a business like Zoom who hold a huge amount of valuable customer data.
We talked to Tamika about the risk management function she said The tech industry is thriving – and to be successful in the future, we must be supportive of innovation. In short, we can't be risk-averse to everything. We must be progressive in moving forward in this environment, where things are happening at lightning speed. As risk managers, we can't be known as naysayers. We can't say no, we have to figure out the how. When it comes to change, particularly in government organisations, people are very resistant to change. One of the best ways to implement that kind of change is to build relationships within the organisation and allow those other stakeholders to be the change agents who can then cultivate a cultural change instead of just procedural change. Risk management is certainly about relationship building and utilising GRC technology is a great way to bring risk management data from different departments together in one central location, therefore opening up the lines of communication between departments. Risk teams can use the data to understand the impact of every risk to support businesses to make strategic decisions to drive growth and say 'yes' to the risks worth taking.
In terms of tips to enhance a career as a female risk professional Tamika added As a professional woman in 2021, balancing work life and home life, networking has been helpful and extremely insightful in allowing me to understand my value and learn from others. Having mentors and sponsors, who can be out there advocating for you, whether it is within your organisation or outside, is key.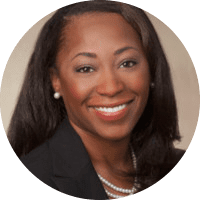 Dafni LeFlore, Enterprise Risk Management at Norfolk Southern Corporation
Dafni shared her thoughts on the impact of the pandemic on women, she said I believe the pandemic made the country more aware of the social injustices that played out front and centre. It placed companies in a position where they needed to address those issues. We saw more companies creating diversity, inclusion, equity, leadership roles, and supporting HBCU initiatives. We also saw women rise in leadership. This was meaningful not just as a mom and a graduate of HBCU, but also as a woman who is hoping to grow my career as far as I can reach. I don't know if the social unrest would have touched us the same if it wasn't for the pandemic because it slowed us down to understand the realities underlying our fast-paced lives. So, although those social injustices played out, it certainly did make more companies aware of the issues working women face and positive change is on the horizon.
Dafni also shared her thoughts on how the pandemic has put risk management in the spotlight, she added Now more than ever people are seeing value in ERM. At Norfolk Southern, we're currently in the process of implementing an integrated risk management framework. This way we're able to speak a common risk language and become aware of any risks that are emerging beyond our comfort zone and create a better way of communicating risk throughout the organisation. A message that I have been very conscious about conveying to our key stakeholders is that a risk appetite is not the sign to limit what you can do, it just allows you to do what you want to do in a responsible way. This is a great way to demonstrate the benefits of ERM, by socialising risk across all departments and utilising a best practice framework to calculate and compare risk it enables the business to try new things and understand the potential consequences enabling them to operate within their risk tolerance.
Dafni also shared some information on the Path Builders programme which has certainly helped to advance her career, she added Women leaders are accelerating in the ERM space, but it's still the perfect area where many tables still lie empty. Something that I would recommend to, all women leaders who are looking to advance their career and accelerate it beyond their personal trajectory is a programme such as Path Builders – which provides an opportunity to give attention to our individual growth gaps. Being in a room full of high-performing females was perhaps the most powerful experience that I've had in my career thus far. It taught me how to feel comfortable in a room full of people who don't look like me and to be brave enough to create a table to sit at if one doesn't exist.
Merline Denis Barrington 'Manager, Enterprise Risk Management at The Port of Authority of New York & New Jersey
Merline shared how The pandemic has acted as a catalyst to decelerate gender parity efforts. It may have been driven by the sheer volume of women who had to exit the workforce to accommodate the pressures at home, such as virtual learning. I also think this phenomenon has worked to further exacerbate gender parity efforts among minority women." However, she did note that many companies are evolving to support women more, she added "There was a concerted effort on the part of certain companies and organisations to create and provide opportunities to women and minorities who perhaps did not have them in the past. So, although the pandemic has been tough for all involved, it has brought about changes that could help women in the future.
Merline shared the impact of the pandemic on the transportation industry The transportation sector has experienced record-breaking activity lows which have resulted in revenue loss across the industry. We do see the tides turning as the world begins to settle into whatever our new normal will be. The ongoing reshuffling impact is not unique to my organisation or the industry in which we play in. It remains to be seen how it will fully unfold as a result of just broader opportunities and folks not being tied to just one location anymore. Risk management is more important than ever for businesses that have experienced a negative impact from the pandemic as they learn to operate in line with new regulations and navigate the peaks and troughs of business.
When asked about how the pandemic has affected the ERM function Merline added The perception of risk at the agency has been significant. I have observed an increased interest in interacting with risk in a more complex way. As risk managers, we are trained optimistic thinkers in moments of pessimism. ERM is a platform for not just talking about the 'how' but the 'what. There's no surprise that a global pandemic has piqued interest in the risk management function and demonstrates that risk management data can guide companies to operate effectively within safe guidelines.
Meline also credits learning from others and taking yourself out of your comfort zone as key steps to advance your career, she added Taking forward facing steps for your own career can be a little daunting at times. I have stepped out of my comfort zone to connect the dots and write out my success. This runs parallel with my overall approach of always building on my strengths and being intentional and intuitive about speaking my narrative in a positive way. This benefits me and the people I am speaking with, because this way we are able to see commonalities and learn from each other. Self-development is much like risk management and relies heavily on communication and collaborating with other departments.
It was great to hear from these inspirational risk leaders and their insights certainly go on to highlight the strategic importance of ERM in businesses across all industries. Even a small ERM department can make a huge difference given the right tools and framework to create visibility of risk across the business. These women all touched on how risk teams should support business leaders to make the right decisions by providing insights into what might happen, enabling businesses to grow and take calculated risks in a controlled way and avoid things that could have a detrimental effect on the business.
To hear more from these four inspirational female leaders in risk, we invite you to listen to our full on-demand webinar – For Better or Worse, Was the Pandemic a Tipping Point for Women in Risk?